Ratatouille – easy, delicious and healthy meal of vegetables
"Ratatouille" – meal which is prepared from juicy, flavoring and healthy vegetables with a pleasant and delicate taste
Ratatouille is a traditional French meal which occurred in Nice, is usually served as a side dish, but also can be served as a main meal.
In preparing Ratatouille it is desirable to use these spicy herbs: rosemary, mint, thyme, basil and with their help the taste change to beyond recognition.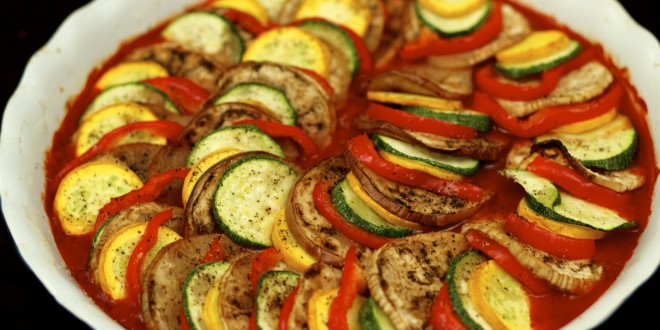 For the preparation of this meal you will need:
2 zucchini
1 large eggplant
6 tomatoes
5 tablespoons ketchup
1 garlic
1 onion
1 red and 1 green pepper
spices, salt, black pepper, oil
Preparation:
Wash eggplant and cut into thin slices. Leave them in salt water for half an hour, to eliminate the bitterness.
Wash zucchini and cut into thin slices.
A similar procedure does with tomatoes.
Prepare the sauce of tomatoes, finely chop the garlic, pepper (into cubes) and previously peeled tomato. The bark is easily removed if you overflow tomatoes with boiling water.
Fry the onion on oil. Add the peppers, garlic, tomatoes and salt. When will fry, let it simmering on fire for another 5 minutes. Add the ketchup, stir and let the vegetables to fry little more.
At the bottom of the casserole put the prepared tomato sauce.
Carefully put the vegetables. Streak also to be colorful.  Add some salt, put the spices and it would be desirable to add some aromatic herb, which will make this meal perfectly delicious, basil, mint, rosemary or thyme. Pour with oil.
Cover it down (you can cover casserole with foil) and bake in the heated oven at 180 degrees for 20-30 minutes.
At the end of baking, you can remove the foil and add grated hard cheese. Ratatouille can be served with a side dish of meat. Good appetite!